ENERJOY® Underdesk Heaters…the best personal space heating solution for your office or home!
To order, visit www.underdeskheat.com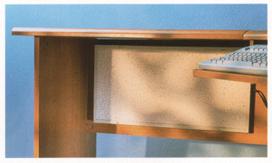 ENERJOY Underdesk Heaters provide the only energy-efficient solution for cold workspaces…the only personal heating solution that is clean, silent and safe-to-touch…and the only personal space heater that takes up no floor space!  Our green Underdesk Heater is 100% UL listed.
Comfort without the high energy cost
Unlike other electric space heaters that run on 1600 watts or more, ENERJOY Underdesk Heaters will use only 100-200 watts per hour while providing you with all the personal comfort you need.  The lower wattage means an energy savings of greater than 80% over these other high wattage floor heaters.   Because of ENERJOY's lower wattage, our Underdesk Heaters will not electronically interfere with computers or overload circuits.  Perfect for offices and computer workstations.
Compare and save; read the chart below to see how much you can save with an ENERJOY Underdesk Heater over a conventional floor space heater!
Usage Costs

ENERJOY

ENERJOY

Floor Space Heater

Wattage

100

200

1600

Cost per kwh*

$.008

$.016

$.128

Cost per 8 hour day

$.064

$.128

$1.024

Cost  per month
 ( 8 hours/day)

$1.92

$3.94

$30.72
*Based upon the national average of $.08 per kilowatt hour.
Clean, quiet & safe to touch
ENERJOY Underdesk Panels are designed to distribute heat over the entire surface of the panel, so you enjoy comfortable, even warmth.
Safe to touch, there are no hot grill covers or danger of burns…just soft, cozy heat. The solid state panel construction means no moving parts, so the heater is completely silent and dust-free.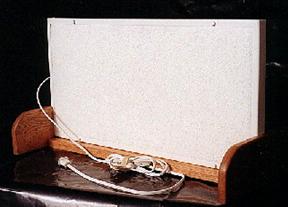 ENERJOY Underdesk Heater in optional stand
Great space savers, too!
Only 1" thick, the Underdesk heaters can be positioned easily and safely in
virtually any location.   Affix to the modesty panel of any desk or workstation.  Or, affix next to the wall of your favorite easy chair.  If you prefer a free-standing unit, order a solid oak stand to accompany your heater.  (Additional charge for stand.)
Cozy up with ENERJOY™ Underdesk Heaters
   Underdesk Heaters come completely assembled.  Simply affix the panel to your desk or wall.  Energize heaters with the on/off switch.  A red indicator light will remind you that the unit is working.  ENERJOY™ panels are completely UL Listed and warranted for a full year.


 Mr. ENERJOY™ says:
"Enjoy clean, comfortable heat…when and where you need it!"
Click Here for our online store!
ENERJOY Underdesk Heater Specifications & Installation
| | | | | | |
| --- | --- | --- | --- | --- | --- |
| Model No. | Voltage | Watts | Amperage | Cost/Hour | Size |
| 12UDH-4 | 120 | 100 | 0.8 | $0.008 | 11¾"x23¾"x1" |
| 1824UDH-4 | 120 | 150 | 1.4 | $0.012 | 17¾"x23¾"x1" |
| 22UDH-4 | 120 | 200 | 1.7 | $0.016 | 24¼"x23¾"x1" |
Based upon pre-deregulation National rate per kilowatt hour.
Installation
Your ENERJOY Underdesk Heating Panel is designed for easy installation to the desk modesty panel.
Heating Panel should be mounted through predrilled holes in frame. Do not puncture or nail into panel.
Do not plug your ENERJOY Heating Panel into voltage power supply higher than 120V.
Module face should not be covered with any material that could retard heat distribution or cause over-heating. Module may be oversprayed or painted with a good quality, water-base flat paint or solid aggregate material. DO NOT USE OIL PAINT, AS IT RETARDS HEAT TRANSFER AND MAY DISCOLOR. NEVER PLACE FACE DOWN.
ENERJOY radiant personal space warmers are rated at 100 watts, producing 341 BTU at 120 volts a/c or d/c. The average daily operating cost at the national average per kilowatt hour electric cost of $ .08 per hour is less than 8¢. This compares with the average floor space heater which costs almost $1.00 per day. ENERJOY underdesk personal space warmers are safe, silent, dustless, odorless, out of harm's way, and provide comfort where needed. ENERJOY underdesk personal space warmers are warranted for one year from date of purchase against production detects.
Lightweight, quick response ENERJOY Underdesk Heating panels for supplemental heating, may be installed as simply as an electric desk lamp, The low mass, insulated design provides direct source-to-object radiant warmth - ideal for placing under desks and work stations. Flexibility in panel placement offers easy adaptability to temporary change in area arrangement or permanent change of floor plan.
Click Here for our online store!