Design with ENERJOY®
Radiant Heat for Efficiency and Comfort

With energy at a premium, homeowners and companies are looking for the best way to incorporate the most efficient heating into their building designs. 
ENERJOY is the high-tech heating solution.  ENERJOY will save 20% to 50% on energy costs over any gas, oil, or other electric heating system.  It has a low carbon footprint; ceiling panels are made from recyclable materials and is a perfect partner for solar or wind partner because of the low energy draw.
Perimeter and Task Heating                                                           

Institute of Contemporary Art in Boston
In glass rooms and buildings, ENERJOY solves the problem of perimeter heat loss.  Glass is opaque to radiant heat; heating building perimeters with ENERJOY radiant ceiling panels keeps the heat inside the structure.  Perimeter heating takes all take advantage of internal heat gains, yet offset building skin heat loss. 
Use ENERJOY panels for task heating in cold spots.  ENERJOY saves energy by matching heating with need, warming work areas while maintaining lower ambient temperatures in non-critical areas.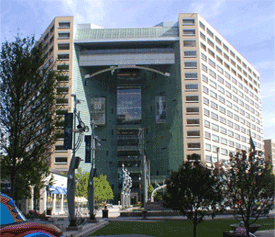 Compuware Headquarters in Michigan
ENERJOY is an optimum approach to heating commercial or institutional spaces:  low first cost, flexible zoning, easy adaptation to changing office arrangements and floor plans and use of all floor space.
ENERJOY Heatmodules are available in a full range of sizes and wattage densities in all common voltages.  The panel is framed in aluminum or encased in steel and finished with a flat or textured surface.  ENERJOY® can be surface mounted, placed in a suspended ceiling grid, freely suspended, recessed in sheetrock or wall mounted, depending upon the model selection.  Panels can be painted and custom-framed to complement any design. 
ENERJOY Advantages:
Zone-controlled
20% to 50% energy savings
Low first cost, easy installation– new/retrofit, residential/commercial
No maintenance or engineering supervision required
Easy to reposition - full use of all space
Day and night setback with quick response and flexible zoning
Eliminate perimeter and window downdraft; minimal heat loss above Heatmodule
Ideal office environment - noiseless, odorless, dustless, clean and static-free
To discuss your particular application, call 800.544.5182 or email info@sshcinc.com.  We would be happy to provide you with a complimentary project analysis.
Case Study:
Technical Articles: