Heat Radiantly with Warm Floors
Whether you want to heat your home radiantly with floors or ceilings or both, SSHC provides you with the best systems available.  We sell heating cables for any type of floor: hardwood, slab or frame.  The heating cables are easy to install; they can be installed on a room-by-room basis with kits in various wattages and voltages.  The UL Listed cables are warranted for 10 years.  With 3 layers of protective coating including a waterproof metallic shield, they are the thickest on the market today…meaning sturdy, long-lasting and resilient.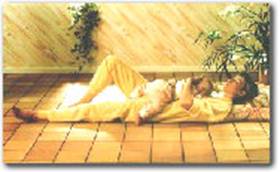 Electric Radiant Floor Heating
Eliminate cold floors with electric radiant flooring in one room or throughout your home.  Floor heating can be used as primary or supplemental heat with other systems such as heat pumps.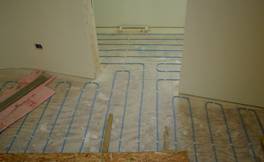 With radiant floor heat, the warmth stays near the floor providing comfort to occupants rather than collecting hot air at the ceiling.  Radiant flooring warms people and objects directly, allowing thermostats to be set at lower settings.  Rooms can be zone controlled with individual thermostats. For more information, visit Thermostats & Controls.
The floor heating system is totally concealed, allowing full use of wall and floor space.  Furniture may be placed in any area of the room, without regard to the heating system.  There are no moving parts, exposed heating elements such as those in baseboards, no open flames that exist in gas and oil-fired furnaces or boilers, thus eliminating the chance of a fire hazard.   With three thick layers of protection, the cables are exceptionally durable and completely waterproof.  These electric heating cables have been tested by time as they have been in use for over 50 years.
Installation
Selecting the proper cables for installations is very simple.  We will work from your floor plan or sketch to provide you with a heat loss analysis and system design.  Design is base upon dimensions, insulation, R-values, construction of floors, thickness of slab, voltage and use of space.
Cables are laided out at predetermined spacing on the floor to be heated.  The cable is stapled to the subfloor or tied to reinforcing wire.  Then it is covered with concrete or a typical mortar to make a bed approximately ¾" to 2" thick.  After the covering is installed and totally dry, the cables are connected to the thermostat, completing the installation. 
The chart below will give an approximate idea of the net square foot coverage of each model.  Please call us with room dimensions.  Or, for larger applications, email info@sshcinc.com or fax 860 399 6460 a floor plan.
Specifications

Coverage

Coverage

Model

Voltage

Voltage

Wattage

Sq. ft.

Sq. ft.

(-2  230 volt

230v

230v

(-4 120 volt)

120v

120v

SSH300

X

X

300

23-37

23-30

SSH400

X

400

31-40

SSH500

X

X

500

38-55

41-50

SSH600

X

600

51-60

SSH700

X

700

61-70

SSH730

X

730

56-81

SSH850

X

850

71-85

SSH1000

X

1000

86-105

SSH1060

X

1060

82-117

106-125

SSH1250

X

1250

SSH1400

X

1400

126-140

SSH1470

X

1470

118-163

141-175

SSH1750

X

1750

SSH2200

X

2200

176-220

SSH2600

X

2600

221-260

SSH3100

X

3100

261-310