Basement Remodeling is Easy with
ENERJOY® Radiant Heat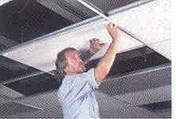 Heat your basement easily, comfortably and quietly while saving 30% to 50% on energy costs with ENERJOY Radiant Ceiling Panels. 
Here's why ENERJOY Radiant Heat is the best heat for any basement:
No duct work. 
No noise, no dust, no odors, no cold blow.
Energy-efficient....uses only 3-5 watts per square foot.  (Compare that to other systems!) 
Quick response time.
Full use of floor space.
Ceiling mounted panels are perfect for areas where flooding is a problem...an excellent solution for basements or lower levels where code doesn't permit baseboard systems.
Not only do 'green' ENERJOY Heat Panels save energy but they are fully recyclable, have a low carbon footprint and, since the panels draw low wattage, they are ideal partners for wind and solar energy sources.
Installing ENERJOY Radiant Panels is simple.  The heaters flush-mount to the ceiling. Or, for dropped ceilings, use the t-bar grid style panels.  All panels install as easily as a light fixture and are controlled by a wall thermostat. 
ENERJOY ceiling-mounted panels are 99% radiant which means less than a 1% heat loss compared to other systems with convective components such as baseboard heaters, wall heaters or floor heaters. Thermal heat transfer from radiant ceiling panels is 99% efficient; heat transfer from wall or floor room heaters is only about 50% efficient and thereby results in about a 50% heat loss. The end result: more comfort and greater energy savings with Enerjoy Radiant Heat.
With ENERJOY, you can set your thermostat 5 degrees lower than you are used to and still be comfortable! 

How Much Heat Do I Need for My Basement?
ENERJOY Heat Panels are sized based upon the dimensions, ceiling height, insulation values, flooring of your basement space.  As a guideline, use the reference table below for each room in basement:
For example, for a 100 square foot basement located in New England with an 8 foot ceiling and 1 slider, a sample sizing is indicated in RED
Sample

Your Basement

Square footage

3 watts per sq. foot

300 watts

Ceiling height:
   7 feet
    8 feet


N/a
Add 1 watt per sq. foot

 

100 watts

Sliders (or large windows or fireplace)

Add 1 watt per sq. foot

100

Northern U.S. states (winter months average 30 degrees per day)

Add 1 watt per sq. foot

100 watts

Total wattage

600 watts
Panels can be purchase in various size configurations, wattages,and voltages.  For sizes go to: http://www.sshcinc.com/enerjoy1specs.htm#specs
Various thermostat controls are available ...from a basic line voltage thermostat to digital, programmable thermostats:
http://www.sshcinc.com/thermostatsandcontrols.htm
Or, simply call us at 800 544-5182.  We will be happy to size panels for you given your specific basement needs.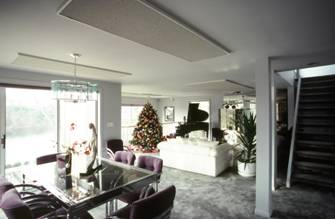 Additional Hints in Designing a Comfortable Basement:
Cement floor are a great source of heat loss as the cement absorbs rather than reflects heat.  If possible, try to cover your cement slab floor with carpeting or wood flooring. 
Insulate the walls where possible.  This will save on energy bills regardless of what type of heating system you use.
For windows and glass sliders, use high R-value products, such as thermopane.